Do you get a lot of requests for collaborations?
If so, how do you respond to those emails?
What's the best way is to politely decline someone's offer and still keep the door open for future opportunities that may arise in the future?
I'm no stranger to this kind of email as I do receive them quite often, here is one I received a few weeks ago on one of my niche sites, blurred out some private info.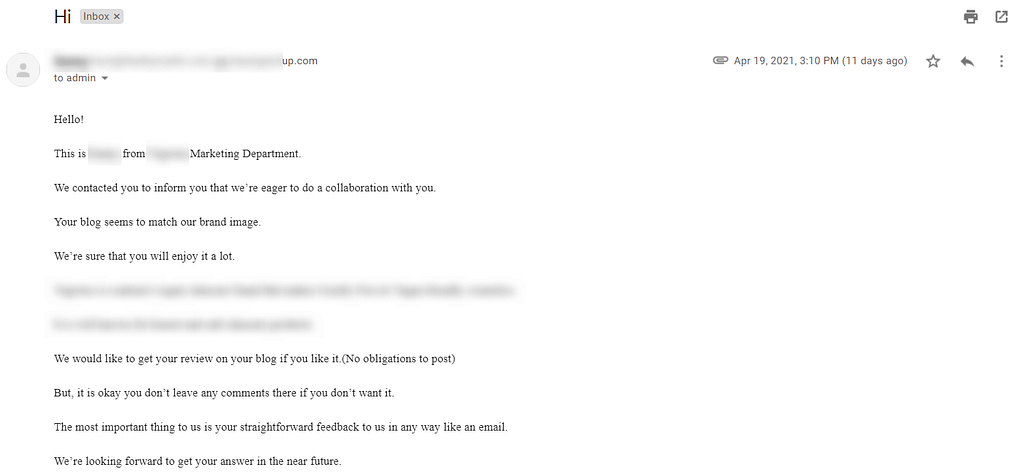 In this post, I will be talking about how you should respond to these collab emails and I will also be sharing the email templates I use.
1. Identify the sender's intention
Is this person asking for your review on a product? Are they inviting you to be their co-author? Do they want feedback or help with something else entirely?
Whatever it may be, try your best not to jump straight into responding without giving it some thought and consideration.
In most cases, they are trying to promote their product or brand.
But some are trying to take advantage of you, and it is just a waste of time.
Here's are the 4 easy ways you can identify if they are a scam and wasting your time.
No website
Generic email
Unprofessional
Lots of emojis
2. Respond with a question about the blog post's content or ask for more information
If everything looks good and you're interested in the collab, you should ask them for more information and what they're looking for.
Ask them questions about the collab such as:
Their terms
Their budget
What they're looking for from you
How long the project would be expected to take
Etc.
Here's an email template you can use to ask them more about the collab:
Hi [NAME]!
I love your idea and how it will benefit our readers.
I would like to discuss more this collab, but before we do so, I'd like to get more details such as:
What are your terms?
What is your budget looking for from me?
How long does this project need to take? What is my timeline on deadlines etc.?
Thank you in advance for answering these questions. It looks like a great opportunity! Any more information you can provide us with will be greatly appreciated."
Best regards,
[YOUR NAME]
The email should also include answers to their unanswered question on what they're looking for from you (which usually includes reviews or creative work)
If you're happy with everything afterward and interested in the collab, let them know with a yes.
3. Offer an alternative idea for the collaboration
If you don't like what they're suggesting for the collab, you can offer an alternative idea – such as content or a different type of project.
You could also ask if they are interested in something else for the collab, such as:
Discount codes
Affiliate links
Giveaways
Etc.
Here's another email template for you to suggest a different collab idea:
Hi [NAME],
I'm glad to hear you are interested in collaborating with me!
I would love to work on something together.
My ideas for content include:
Idea #1
Idea #2
Idea #3
Etc
Best regards,
[YOUR NAME]
This is your opportunity to be creative and suggest options for what you might want to collaborate on together.
If it's not a fit, though, just let them know why, so they understand where you're coming from and how their request isn't right for you.
4. Respond with a polite "No thank you"
I get it. Not everyone wants to collab, maybe you're busy right now, or they're not the right fit.
That's totally cool, and it happens.
But you don't want to be rude when declining their collaboration.
Here's an email template you could use to decline their offer:
Hi [NAME]!
We're flattered that you reached out to us about a potential collaboration.
But we've decided not to participate, as it's just not the right time or for the right project. Thanks so much for reaching though, and good luck with your business!
Best regards,
[YOUR NAME]
5. Suggest another blogger who might be interested in the collab
If they're persistent about their collab offer after your polite refusal, refer them to another blogger you know.
Not only will the brand appreciate your help, but the blogger will too!
If you don't know any others, give them a list of bloggers they can consider.
Here's an email template you can use to suggest other bloggers:
Hi [NAME],
I'm sorry, but I won't be able to collaborate on your project. However, you may want to consider these other bloggers for future collaborations: [list of three or four bloggers]. Please let me know if you need any help connecting with them!
Best of luck, and thanks again for reaching out!
Best regards,
[YOUR NAME]
To end this
You should always respond to a collaboration email. If the brand/person who sent you the request is someone you would want to work with in the future – they will remember and think of your company favorably when planning for their next project.
"Always keep your options open."